Ennio Morricone was considered the world's greatest living composer, a legend whose music had reached more people than any popstar's. His long artistic career included a wide range of compositions genres, from absolute concert music to applied music, working as an orchestrator, conductor and composer for theatre, radio and cinema. His legendary skills in composing and orchestrating led him to conduct some of the leading orchestras of the world.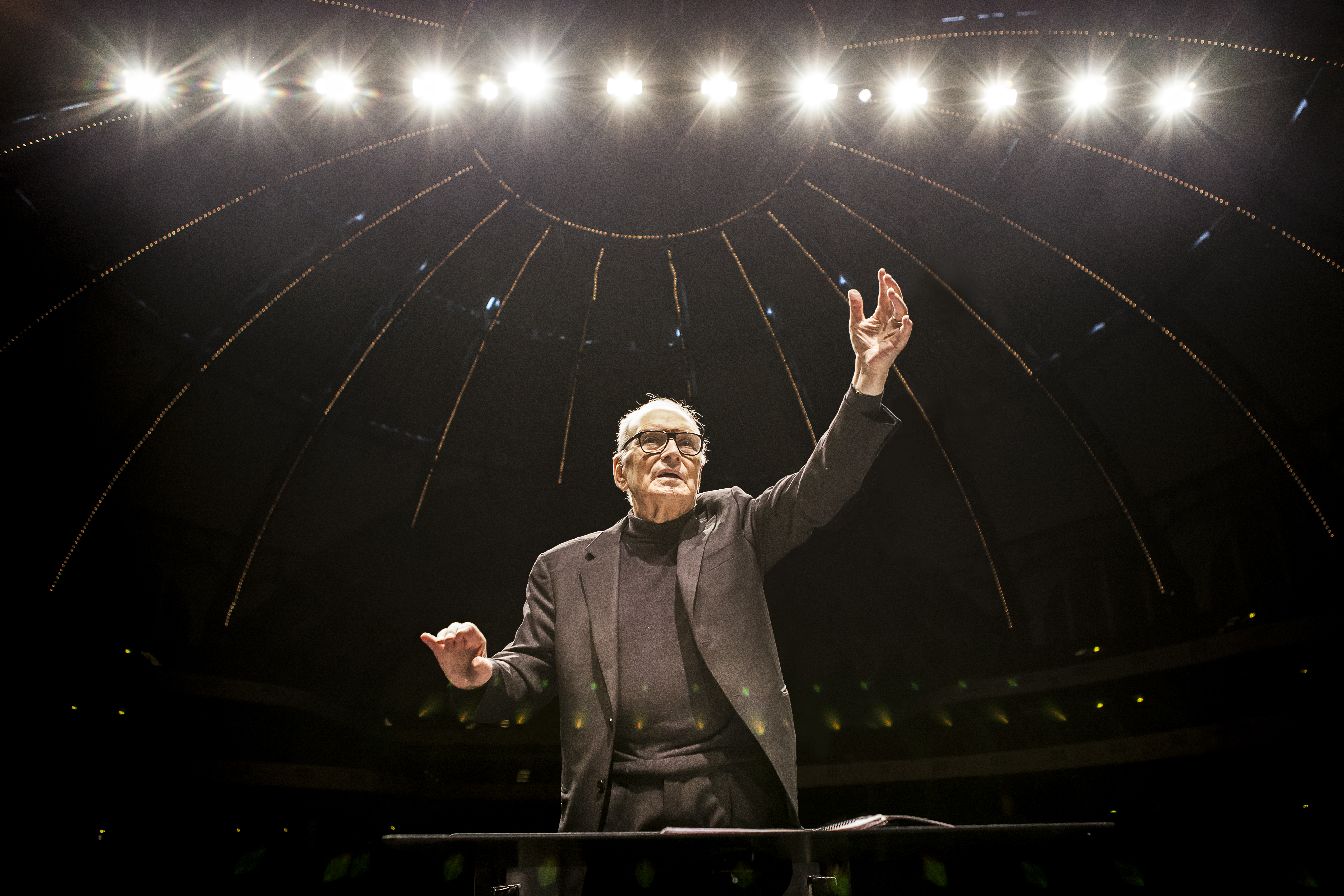 Ennio Morricone was born in Rome on 10 November, 1928. He is the son of Liberia Ridolfi and Mario Morricone, a musician, who taught him how to read music and also to play several instruments. His father worked in jazz bands and opera orchestras and sometimes Ennio substituted him at gigs.
Later, in 1940, he entered the National Academy of St Cecilia to take trumpet lessons under the guidance of Umberto Semproni. He completed the four-year program within six months. Besides studying the trumpet, he also took composition and choral music lessons under the direction of Goffredo Petrassi to whom he has dedicated several of his concert pieces. He completed his studies at the Conservatory of Santa Cecilia in 1954.
Interestingly, he only began composing film scores in the early '60s. Initially, he wrote film scores as a ghost writer for other composers, and also his first films were undistinguished until Morricone's former classmate, Sergio Leone, hired him and together they created a distinctive score to accompany Leone's different version of the Western, A Fistful of Dollars in 1964.
In just four years, from 1964 to 1968 they made four groundbreaking movies together. A Fistful Of Dollars, For a Few Dollars More, The Good The Bad and The Ugly, and Once Upon a Time in The West were all cowboy pictures, and among the few movies filmed in Italy and Spain to find box office success in the States at the time. Americans audiences – first derisively, and then admiringly – dubbed them the "Spaghetti Westerns".
From 1964 to 1980, Morricone was also a part of the G.I.N.C; a band which was colloquially named as "The Group". He released seven albums with the avant-garde group, which was created to promote improvisation and new musical techniques.
During his long career, he has composed over 500 scores for cinema and television, as well as over 100 classical works. His filmography includes over 70 award-winning films, including all Sergio Leone films since A Fistful of Dollars (including The Good, the Bad and the Ugly and Once Upon a Time in the West), all Giuseppe Tornatore films (since Cinema Paradiso), The Battle of Algiers, Dario Argento's Animal Trilogy, Bernardo Bertolucci's 1900, Exorcist II, Days of Heaven, several major films in French cinema, in particular the comedy trilogy La Cage aux Folles I, II, III and Le Professionnel, John Carpenter's The Thing, The Mission, The Untouchables, Bugsy, In the Line of Fire, Disclosure, Bulworth, Mission to Mars, Ripley's Game and The Hateful Eight.
These masterpieces then inspired hundreds of copycats. As soundtracks, they changed the way music is used in films forever. During his long career, Morricone has also received many awards.  As well as the Golden Lion and the honorary Oscar he was awarded in 2003, he has been presented with eight Nastri D'argento, five BAFTAs, five Oscar nominations, seven David Di Donatellos, three Golden Globes, one Grammy Award and one European Film Award. In 2009, the then President of the French Republic, Nicolas Sarkozy, also signed a decree appointing Morricone to the rank of Knight in the Order of the Legion of Honor. In the recording field, Morricone has received 27 gold discs, seven platinum discs, three Golden Plates and the Critica Discografica award for the music of the film Il Prato.
Besides the 500 original film scores that have been composed by Morricone for movies and television series in a career of over six decades, his music is also frequently reused in more than 150 other film projects. Morricone's compositions appeared in the German TV series Derrick (1989), the live-action comedy film Inspector Gadget, Ally McBeal (2001), The Simpsons (2002), The Sopranos (2001–2002) and more recently in Dancing with the Stars (2010).
Despite working in an American-dominated industry, Morricone never moved to Hollywood, remaining rooted in Rome, where he was born in 1928. "I have been tempted. I was invited to live in Hollywood, I said no. I am better here," he said.
| | |
| --- | --- |
| composer | compositore |
| genre | genere |
| conductor | direttore d'orchestra |
| legendary | leggendario |
| to substitute | sostituire |
| gig | concerto, spettacolo |
| trumpet | tromba |
| ghost writer | ghost writer |
| groundbreaking | rivoluzionario |
| derisively | beffardamente |
| admiringly | con approvazione |
| award-winning | premiato, pluripremiato |
| copycat | copione, imitatore |
| decade | decennio |
| despite | nonostante, malgrado |
| rooted | provvisto di radici |
| to be tempted | tentato |